Hariton Machinery Co., Inc. manages 60,000 square feet of warehouse space located minutes off the I-95 corridor in the Northeast United States. We are capable of loading and unloading flat bed trucks, closed box trucks, as well as ocean going containers both closed and open top. We are also capable of handling your inspection with the machines under power. If you want the machines cleaned and painted, we can do that for you too.
(2) 15 ton overhead cranes are in use to manuever and position equipment within our space.
Storage space is billed by the actual machine measurement plus 1.5 feet added to each dimension (example: 10 ft x 10 ft will be billed as 11.5 ft x 11.5 ft).
The additional 1.5 feet allows for movement around the machine while in storage.
Storage charges are calculated based on the day of arrival and the date of departure of the machine to the warehouse.
Loading and unloading charges are billed by the ton and is due upon the first bill.
Additional man hours needed to load/unload above the first person are charged on an hourly rate as needed.
Electrical hookup is charged by the hour with a decreased hourly charge after the first hour.
Cleaning, painting and machinery repair are also charged by the hour.

Lincoln Fifth – Lebanon, PA
Industrial Park Buildings for Lease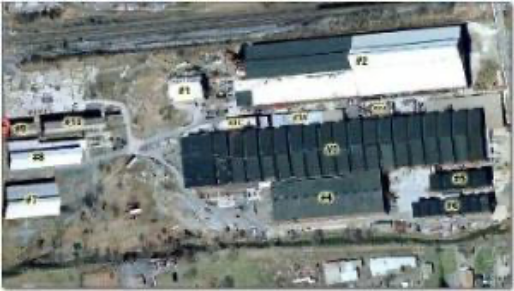 Click Here for More Details